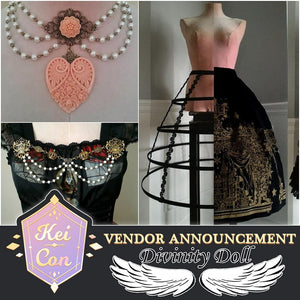 Vendor Announcement cake fans!-🎀🦇🎀🦇🎀🦇🎀🦇🎀🦇🎀🦇🎀- Divinity Doll is a Canada-based brand with an eclectic range of inspiration. It is the result of a lifelong love of crafting, an irresistible urge to create, and a shortage of space to store everything that has been made.~~~~~~~~~~~~~~~~~~~~~~~~~Commissions and custom requests are always welcome!
---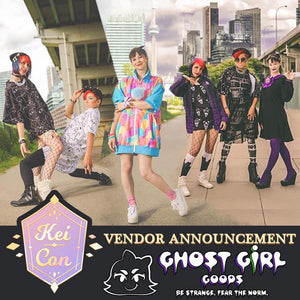 🌟Second vendor announcement!🌟ghostgirlgoods will be vending at kei-con ! GGG combines kawaii and pop aesthetics with a haunted edge ! Remember to #bestrange and #fearthenorm 💫🌟💫
---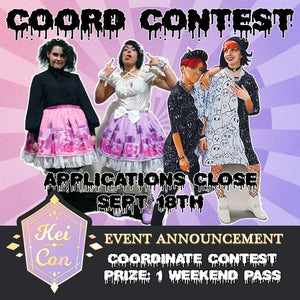 🦇🔮🦇Get spoopy cake fans!🦇🔮🦇 Kei-con's first Midnight Carnival (of Cake!) Event is live! 🌟🎀🌟 Coordinate Contest! 🌟🎀🌟 Post your best j-fashion/alternative fashion outfit. Tag keicon with #keiconto2019 ??? Profit. Contest ends Sept 18th 11:59:59 EST. Winner will be chosen by a vote by kei-con staff Winner will be announced Sept 19th 8 PM EST. Prize will be one free weekend pass to Kei-con presents: Midnight Carnival (of Cake!) Winner will be responsible for their own travel and accommodations.    
---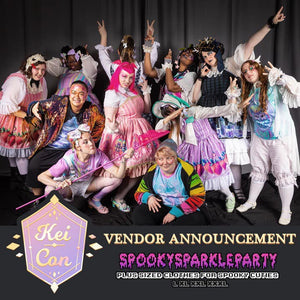 It is our pleasure to say that Spooky Sparkle Party will be vending at Kei-Con 2019! Spooky Sparkle Party offers a range of plus size lolita dresses, skirts, swimwear and accessories. They are a perfect brand to check out if you're looking for something with colourful creepiness for the month of October.  You can follow them on Facebook or check out their Online Shop!