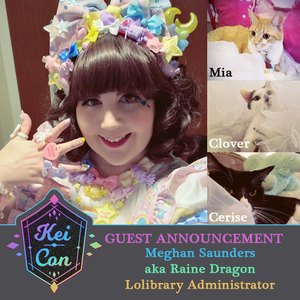 Regular price
$0.00
$0.00
Meghan Sanders aka Raine Dragon is a lolita fashion blogger and J-fashion history enthusiast. Her blog, Crimson Reflections spans a wide variety of topics from laundry tips to lolita fashion history, new releases and more. In Late 2010, her passion for researching old and obscure lolita fashion items led her
to start volunteering with lolibrary where she now serves as one of the site administrators. In addition to this, she runs
lolitahistory.com
, which she launched in 2015 as a place to share information from her private collection of lolita fashion magazines and books with other researchers. When she's not staring at garment wash tags trying to determine if they use the same font or trying to figure out how to tetris another magazine into her bookshelf, she enjoys spending time with her partner, Michelle of Belladonna, and their 3 little cats: Mia, Clover & Cerise.
~~Lolibrary Administrator~~
Raine started out as a volunteer doing data entry for lolibrary in late 2010. Due to her early enthusiasm for entering items she was promoted to senior lolibrian and eventually became a site administrator. As an admin, she helps guide policy decisions for the site and maintains the list of brands, tags, and features. Additionally, she helps with approving entries from junior lolibrarians, correcting entries and answering questions. She is also the primary person behind lolibrary's Facebook page.