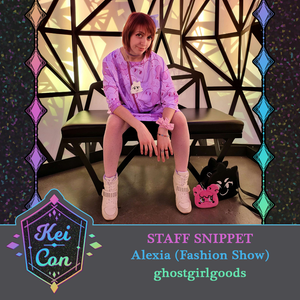 Regular price
$0.00
$0.00
Name: Alexia (she/her)
Department: Fashion Show, MCing, HypeHypeGal
Main J-Fashion: Kawaii and colorful streetwear
Other J-Fashions you wear: Sweet lolita
How would you describe your daily style?
I am always topped of with a bow on my head! (Or another hair accessory) If I don't have a bow on, something ain't right!
How did you get into J-Fashion?
In 2008, I started getting into anime. From there, I started to hear about different styles of J-fashion, specifically lolita and 6%dokidoki first!
About me:
I am the owner of GHOST GiRL GOODS, and also work within the fashion industry as my full time job. I love dancing and being on stage! Anytime I get to MC, I love to hype people up! I really like bubble tea and gummies. I have travelled to Japan over 6 times and definitely want to keep that number growing. I've had the opportunities to connect and work with various Japanese designers/artists/models, in hopes that I can connect my local community with fun events and opportunities, as well as do collaborative projects! To me, bringing people together to enjoy something brings me the most joy in life.
Where can people follow you online?
@ghostgirlgoods on Instagram, Twitter, Facebook, YouTube, and TikTok.
www.ghostgirlgoods.com