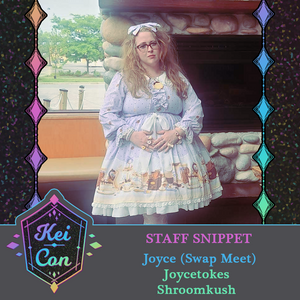 Regular price
$0.00
$0.00
Name: Joyce
Department: Swap Meet (+remote vending & model)
Main J-Fashion: Lolita
Other J-Fashions you wear: Ko-gal style gyaru
How would you describe your daily style?
Streetwear/athleisure
How did you get into J-Fashion?
Found a DVD of Kamikaze Girls in my local library international section. Started wearing it after buying directly from Meta in person when they had a booth at Anime North.
About me:
Art school dropout, lived in Toronto for the past 12 years. Love karaoke, live music, and traveling. I like old school shōjo anime, standup comedy, and can't eat without YouTube. I mostly switch between playing Animal Crossing, Mario Kart, and League of Legends.
Where can people follow you online?
Joycetokes on Instagram
Shroomkush on TikTok