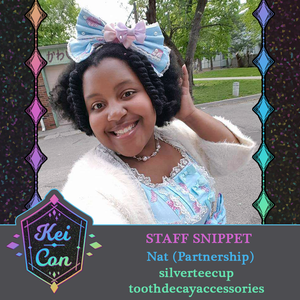 Regular price
$0.00
$0.00
Name: Natalie (she/her)
Department: Sponsorships, Partnerships, Raffle & Donations
Main J-Fashion: Sweet lolita
Other J-Fashions you wear: Alternative streetwear (mostly pink)
How would you describe your daily style?
Delta-Nu wine mom where yoga pants is a must and the color pink must be visible to the naked eye.
How did you get into J-Fashion?
I saw it mentioned on a fashion reality show in the early 2000's and fell in love.
About me:
I am the owner of TOOTH DECAY ACCESSORIES, which I started because I saw need in the market for low/no metal kawaii jewelry. I love being there for my friends & family and supporting their passions. I like watching anime and collecting stickers for my notebooks and will always try new foods but will always ask what's in it because allergies. I am friendly and approachable so come say hi even if we've never spoken before!!

Where can people follow you online?
FB, IG & TikTok
@toothdecayaccessories
@silverteecup